Jeti Duplex Rex 10 Assist 2.4GHz Receiver w/ Telemetry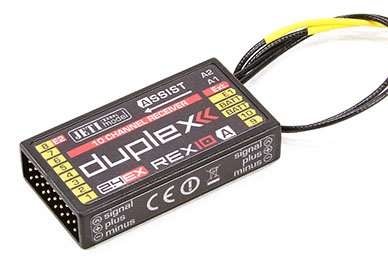 | Receiver | Duplex EX R10 REX |
| --- | --- |
| Manufacturer | Jeti Model |
| Special Features | Wireless Programming |
| Modulation | 2.4GHz w/Telemetry Data |
| Upgradeable | Via USB or JetiBox |
| Satellite Rx Support | Yes/2 (E1, E2) |
| Channels | 10 |
| Range | Full Range |
| Voltage | 3.2-8.4V (2S Li-poly) |
| Dimensions | 51mm x 28mm x 11mm |
| Weight | 16g |
Duplex revolutionary, fully digital 2.4GHz, frequency hopping radio system is fully designed and manufactured by Jeti Model in the Czech Republic. We are excited to introduce two brand new lines of REX and REX Assist Jeti Duplex 2.4GHz Receivers with built-in revolutionary features: Internal Data Telemetry Logging (Black Box), Integrated Multi (3) Input/Output Telemetry & EX Bus Expander, and New 32 Bit Microprocessors (No limits for Future Firmware Upgrades). All Jeti receiver features wirelessly programmable failsafe and integrated digital telemetry (Rx Voltage, Signal Quality).
The 
REX Assist
 receivers enhance the REX series of receivers and extend it with the intelligent flight stabilization feature, which is designed for airplane models and multicopters. This stabilization works in all three axes of the model and facilitates flying in windy or otherwise challenging conditions. Aerobatic maneuvers will be more accurate and smoother. With the help of several flight modes, which are also suitable for beginner pilots, flying practice will be really easy.
New Jeti REX line of programmable receivers has been developed to take full advantage of multi-port (Ext, E1, E2), multi communication protocol (EX Bus, UDI 12/16, PPM) configuration and fully implement Duplex EX Bus (Device Manager) or third party devices that use EX Bus for telemetry and programming integration.
Jeti 
REX Assist
 receivers also allow you to expand the functionality of your system by adding variometer function. With Jeti system you only pay for features that you will actually use, but you will keep your options open if your needs change. Variometer function in the Assist receivers requires purchase of the Vario software module through swshop.jetimodel.com. If you are using a DS-12, the transmitter may require the software module for vario be purchased through swshop.jetimodel.com.
Variometer is a system that measures atmospheric pressure and using the obtained data, it calculates the altitude above sea level, airspeed, and the rate of climb as well as the rate of descent. Changes in climb and descent rates are signaled as well. The sensor also alerts you if any alarm setting is exceeded.Features:
- Up to 16 Stabilized Individual Channels
- Different Multicopter Types, from Tricopters to Octocopters
- Up to 3 Adjustable Flight Modes, Options for Stabilizing the Horizon and Altitude
- Optional Variometer Function (Requires Software Module Purchase)
- In-flight Gyro Gain Tuning Using Available Channels
- Latest 3-axis Gyroscope, 3-Axis Accelerometer and Barometric Altimeter
- Support for External Ultrasonic Altimeter
- Support for LED Light Strip, and External Camera Gimbal
- Intelligent Fail-safe, and Vibration Analysis
- Wireless Transmitter programming and PC Support
- Available Telemetry: Rx Voltage, Signal Quality/Strength, G-Force, Attitude Orientation
More information (links):
* Instruction Manual (.pdf)
* Click Here for Firmware Updates
Port Configurations (Rx Firmware REX 1.00):Standard:
1-10
 Servo, 
E1
 Telemetry/Satellite, 
Ext
 Telemetry/USB Programming
PPM/Servo:
1-10
 Servo, 
8/E2
 Servo/Satellite/PPM, 
E1
 Satellite/PPM, 
Ext
 Telemetry/USB Programming
EX Bus/Servo:
1-10
 Servo, 
8/E2
 Servo/Satellite/EX Bus, 
E1
 Satellite/EX Bus, 
Ext
 Telemetry/USB Programming
UDI/Servo:
1-10
 Servo, 
8/E2
 Servo/Satellite/UDI, 
E1
 Satellite/UDI, 
Ext
 Telemetry/USB Programming
Airplane Menu
The Airplane Settings Menu allows you to adjust gain and stick priority for all three axis directly from the transmitter. It also allows you to control stick priority which reduces gain at the extreme ends of travel by the amount that is entered.


Stabilization Menu
In the Stabilization Settings Menu, you assign the three flight modes and make adjustments, individually, for all three including the damping mode, default gain and which channels are stabilized.


Advance Properties
In the Advanced Properties Menu, you control the general settings like the output period, number of PPM channels, and whether or not to stabilize the EX Bus output. It is also here where you adjust the PID settings for the three axis.