Jeti Central Box 100 (Mini Dual Redundant System)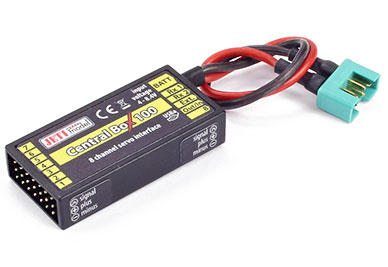 | Distribution Unit | Central Box 100 |
| --- | --- |
| Manufacturer | Jeti Model |
| Special Features | Power/Signal Distribution |
| Output Current | 10A Continues |
| Upgradeable | Via USB or JetiBox |
| Receiver Support | 2 |
| Channels | 8 |
| Protocols | EX Bus, PPM |
| Input Voltage | 4-14V (3S Li-poly) |
| Dimensions | 52mm x 25mm x 11mm |
| Weight | 20g |
The Central Box 100 is a switchboard designed for the complete management of servos in a model with an emphasis on safety. The Central Box has a unique design that provides overload protection at each servo output. The Central Box can manage up to eight servos and fully supports the Jeti EX telemetry system. Up to two receivers with serial (PPM, EX Bus) output can be connected at the same time to the Central Box for complete RF signal redundancy.
With Jeti Duplex 2.4GHz DC/DS transmitters, the full potential of the Central Box can be used, such as an easy way to wirelessly configure the Servo Outputs, EX Telemetry, Fail-Safe Setting or Fast Servo Response.Specifications/Features:
- Control Management with Configurable Servo Output
- Power Distribution with Overload Protection
- Firmware Updatable via Jeti USB Adapter
- Jeti Duplex EX Bus or PPM Compatible
- Wirelessly Programmable Using DC/DS Tx Device Explorer
- Independent Receiver Signal Inputs (Rx 1, Rx 2)
- Up to 8x Servo Outputs with Overload Protection
- Up to 3x Telemetry Sensors Inputs
- Output Current: 10A Continues/90A Peak



Fail-Safe Setting
Switches ON/OFF of the Fail-Safe function. If the Fail-Safe function is deactivated, there is no signal generated in any Central Box outputs at the signal loss. If you activate the Fail Safe function, you can also select how the Central Box responds at signal loss for each of the individual outputs.



Servo Mapping
Servo No. - Assigning outputs of the transmitter to the Central Box outputs.
Group - Assigning specific output to the group of output impulses that will be generated from the receiver in the same time.



Duplex Telemetry
Temperature - Temperature of the Central Box
Shorted Outputs No. - Number of Overloaded Outputs
Voltage - Voltage of Individual Outputs of the Central Box
Current - Current Drawn from the Battery
Capacity - Capacity Taken from the Batteries
Jeti Central Box 100, Dual Receiver Batteries, DSM 10, Dual R3/RSW Receivers and R3/RSW Wireless Switch are Used for Building Mini Dual Redundant System.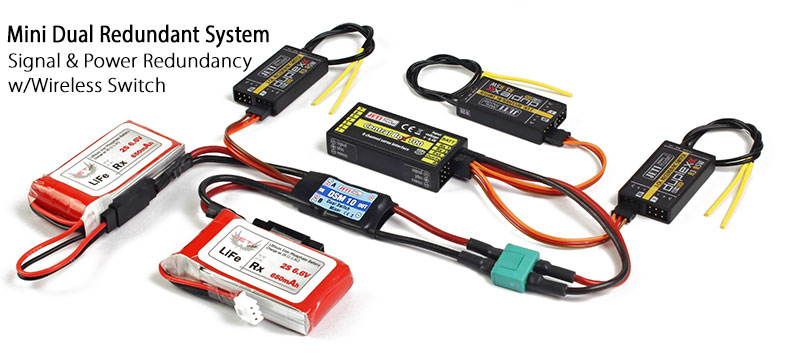 After receiving numerous questions regarding getting extra channels while using Jeti Central Box 210/220 we have come up with elegant configuration that uses power from CB210/220 servo port 9/10 for Central Box 100. This way you can have up to 20 high power servos connected to the system and still have full battery telemetry & redundancy.
If you connect Telemetry to the CB100 and use CB100 only for noncritical functions (Gyro, Lights, Airbrakes…) you can get away with a single power lead and go up to 22 servos.